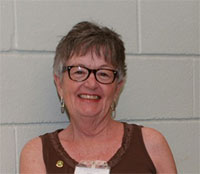 As I enter my third year as President, I am as excited about this one as I was for my first year!  The Board of Directors are a hardworking, professional group who make my role an easy one. We have several new Directors and Chairpersons this year—Juanita and Richard DeRoo, Karen Pritoula, and Jean Mann.  A huge thank you to them for stepping up and volunteering.   I am very proud of all the good that our society does for Tillsonburg.  In 2016 our activities include the following gardens:
Annandale National Historic Site
Woodingford Lodge
The Livingston Centre
The Station Arts Centre
The Senior Centre—both the entrance garden and the new north garden
The Royal Canadian Legion
Our other community contributions are:
the Junior Gardener program
A $500 scholarship for a graduate of Glendale High School
$100 contribution to the Tillsonburg Fair
For our members we offer an excellent monthly speakers program, and amazing trips.
Have an excellent year!  Bring your friends!  Volunteer!
Judi Misener
Website Design: Penny Esseltine
2016 Content: Penny Esseltine
Website Photography: Catherine Burke, George Stier, Judi Misener